Come to the LaRose Wellness Retreat for an exploration of your Avatar or "outer, ego self" vs. your Hero or "Inner, super self". This will be an honest exploration of all aspects of self and how we integrate them into our lives and how they "play out" in the world. Come with your curiosity and mind/heart/soul open to travel the world of you.
Avatar vs. Hero Self Retreat~Seminar
LaRose Wellness Retreat
Earth Day 10AM-6PM Sunday, April 22nd
In this beautiful retreat environment along the shores of Lake Superior, we will enjoy Earth Day together. You will have spa time available, a time for creative expression and a healthy meal along with the seminar.
Register by calling: Openings Life Coaching 906-370-6686.
Cost $75.00.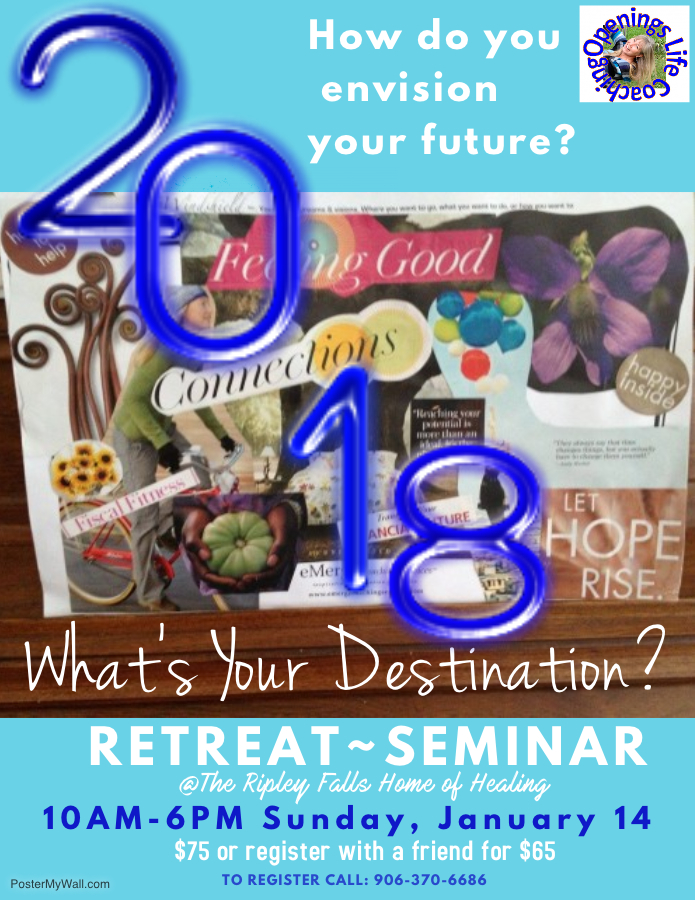 How do you envision your future? What's your destination in 2018? Sign up and come to this January Retreat~Seminar at the Ripley Falls Home of Healing. Enjoy learning about the power of Vision Boards and create your very own Windshield on your future year. A great way to start out the year fresh wtih possibilities!
What's Your Destination? Retreat~Seminar
10AM – 6PM Sunday, January 14, 2018
The Ripley Falls Home of Healing
Cost: $75.00
Questions: 906-370-6686
Seminar, labyrinth walking, healthy food options, connection, optional sauna and creativity are all included.
SPECIAL DEAL: Get a friend to sign up and each get $10 off of the seminar fee.
---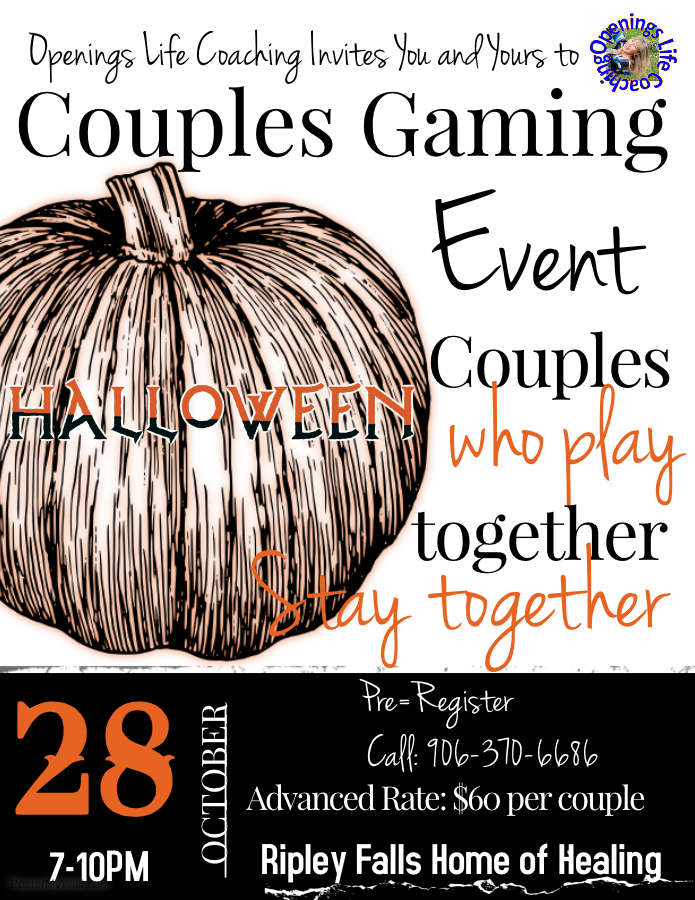 Halloween Couples Gaming Event (because couples who play together, stay together) at the Ripley Falls Home of Healing. Get your game on with your wanandoa (yes Swhahili for "couple") via fun activities together and with other kindred souls in a healing space of light comradarie and good company. We will have Halloweeny snacks, carve pumpkins and other revelry. Consider this a Halloween Date Night with your sweetie.
Come from 7-10PM on Saturday, October 28th. Be prepared for smiles and laughter, a bit of discovery, and a whole lotta mystery.
Sign up here but officially call: 906-370-6686 to actually register. Pay by October 26th for the special rate of $60.00 per couple. Pay at the door at a rate of $65.00 per couple. Pre-registration required regardless.
---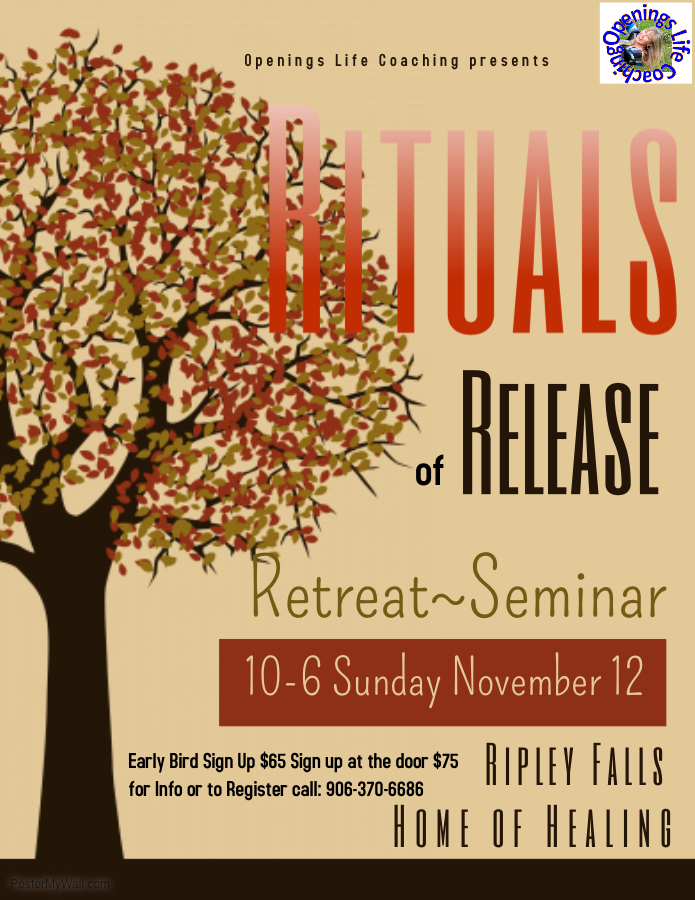 Sign up for this healing and contemplative Retreat~Seminar, Rituals of Release held at the Ripley Falls Home of Healing. Here you will explore ways to integrate something you are prepared to release in your life. This may be a deep loss or another transition into a space of more clearness. We will be exploring the role of rituals in our lives, how they may be created to allow us healing and moving forward into a new and integrated space, releasing loss or something else in our lives. Integration is the key to healing. We don't "get over things", but we do find a new place for them in our lives going forward.
Lunch will be served as well as a chance for a healing sauna if you desire. A walk by the Ripley Falls will be included in the day. Come prepared for contemplation and finding some peace for yourself as you create your own personal ritual of release.
Date: 10AM – 6PM Sunday, November 12, 2017
Location: The Ripley Falls Home of Healing
Cost: Early Bird Special (sign up by November 6) $65.00
After November 6: $75.00
Call: 906-370-6686 for information and to register
---
Universal Truths Retreat-Seminar • Sept. 24 
Calming the Inner Critic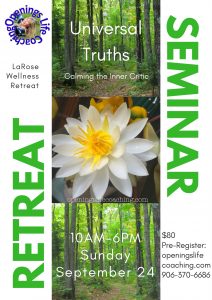 Would YOU like to show up more to your life?
Learn about Rising Above the Inner Critic while exploring the treasure that you are and relaxing in a spa environment!
Interactive Seminar: What if you became more aware of your own light, gifts and strengths you have to offer in the world?
Spa Time ~ Lake Access
Empowering Seminar
Nourishing Lunch
10:00-6:00 SUNDAY, SEPTEMBER 24
Questions:
Cynthia Drake, Openings Life Coaching 906-370-6686
cynthiamdrake@gmail.com
Location:
The Larose Wellness Retreat
12383 US 41
Baraga
---
Mindfulness Mini Retreat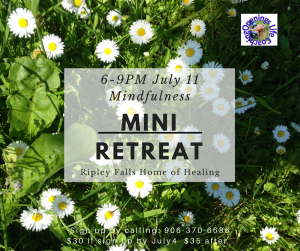 Tuesday, July 11 from 6-9 p.m. at the Ripley Falls Home of Healing. Food is provided.
$30 Early Bird Special for registering and paying by July 4th. Or register and pay $35 "at the door."
Call 906-370-6686 to pre-register and for any questions. You may also message here.
Are you wanting to come to center? Are you needing some grounding? Do you want to step out of the frenetic and into the calm, relaxed, focused, and fulfilled you?  
Welcome to an evening of Mindfulness at the Ripley Falls Home of Healing for this Mini Retreat. Here you will find kindred souls to interact with on a deeper level. We will practice mindful eating, mindful meandering, have some stories and s'mores around the firepit and an optional sauna.  
Bring yourself and your spirit of openness to a deeper you. Share this opportunity with a friend. Together we can build a world where we are more present to what really surrounds and nourishes our body, mind and spirit.
---
Create Writing Workshop hosted at Ripley Falls Home of Healing • Aug. 13